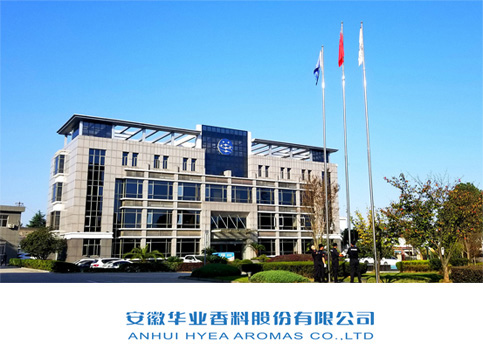 Established in July 2002, Anhui Hyea Aromas Co., Ltd. has been committed to the research, development, production and sales of lactone series of aromatic chemicals. Now, our main products are Gamma-lactone series aromatic chemicals and Delta-lactone series aromatic chemicals, which are widely used in food and beverage, daily chemical, tobacco, feed and other industries and fields. Especially, Huaye ranks among the "Top-Ten Enterprises in China's Light Industry Spices Industry".
As a national high-tech enterprise, our company has a provincially-recognized enterprise technology center and an Anhui academician workstation. As one of the main drafting units of the national food safety standards and industry standards for the lactone series of aromatic chemicals, we are certificated to Kosher and EU REACH registration. Thus we are able to participate in international market competition extensively. More than 75% of our products are for exports now, and our main customers such as Firmenich, IFF, Givaudan, etc. are all internationally renowned companies in the fragrance and flavor industry.
Under the support of two production bases in Qianshan city (head office) of Anhui province and a wholly-owned subsidiary in Hefei of Anhui province, our company has formed a "two-wing" linkage development pattern. Upholding such business philosophy of "Awe, focus, perfection", we will try our best to provide the market with the highest quality products and services, and strive to achieve the goals of sharing development with customers, letting employees grow, being responsible for the society, and adding value to investment, and then build a community of destiny for the entire industry chain to promote the progress and prosperity of the industry.
We strive to make Huaye an application expert in the global spice subdivision field and a respected internationally renowned enterprise.